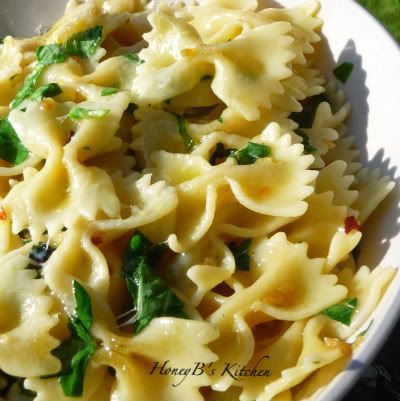 While garlic breath may not be pleasant to be around, it sure is enjoyable to eat the food that causes it!
I decided to go with something simple - Linguini with Garlic and Oil. Bittman says linguini is traditional but any type of pasta would work - which is what I used - any type of pasta. I love bowtie pasta and thought it would not only be easier to eat but prettier.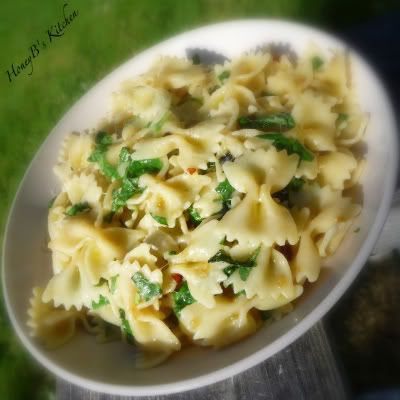 Bow Tie Pasta with Garlic and Oil
Salt
⅓ cup extra virgin olive oil
2 Tablespoons minced garlic
1 or 2 small dried red chiles or red hot pepper flakes to taste
1 pound long, thin pasta like linguine or spaghetti, or any other pasta
½ cup chopped fresh parsley leaves (optional)
Bring a large pot of water to a boil and salt it. Put the oil, garlic, chilis and a pinch of salt in a small skillet or saucepan over medium-low heat. Let the garlic sizzle a bit, shaking the pan occasionally, just until it turns golden, about 3 minutes. Turn off the heat if pasta isn't ready.
Coo pasta until it is tender but not mushy. When it is done, drain it, reserving a bit of the cooking water. Reheat the garlic and oil mixture briefly if necessary. Dress the pasta with the sauce, adding a little more oil or some of the cooking water if it seems dry. Taste and adjust the seasoning, then toss with parsley if your using it.
I went with Bittman's suggestion of garlic, oil, and fresh herbs. I have a nice pot of basil thanks to my son & DIL - so I skipped the parsley and used fresh basil leaves. I also added some grated fresh parmesean just before serving. YUMMY. Grumpy and I both enjoyed this dish and will definitely be a regular on our table!