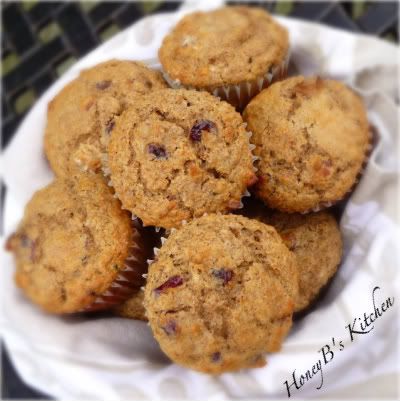 Not too long ago I was lucky enough to receive some All-Bran cereal compliments of FoodBuzz Tastemaker Program and Kelloggs. Muffins, as many of you know, are one of my favorite things to make and have for breakfast. Bran, being at the top of the list!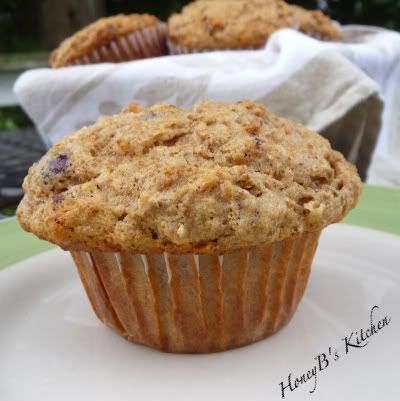 Since we have been eating pretty low carb I decided that introducing some carbs back into our diet, I should go with some higher fiber, whole wheat muffins. We had friends over for the weekend and breakfast was going to be eggs over easy, turkey sausage, and these yummy muffins! I want to thank FoodBuzz Tastemaker Program and Kelloggs for sending the All-Bran cereals (wheat flakes, nuggets, and shreds). This was my first of many recipes I will be making using the cereal!
Cranberry-Pecan Muffins
1-¼ cups white whole wheat flour (I used King Arthur)
½ cup sugar
1 tablespoon baking powder
¼ teaspoon salt
2 cups All-Bran Orginal
1-½ cups fat free milk
1 egg
¼ cup vegetable oil
⅔ cup dried cranberries
¼ cup chopped pecans
Mix together flour, sugar, baking powder and salt. Set aside.
In a large mixing bowl mix 2 cups All-Bran Original cereal and 1-½ cups milk. Let sit 2 minutes or until cereal has softened. Add eggs and oil and beat well. Stir in cranberries and pecans. Add flour mixture, stirring only until combined. Using ⅓ cup measure, place in muffin cups lined with paper liners. Bake at 400 degrees for 18-20 minutes. Serve warm.