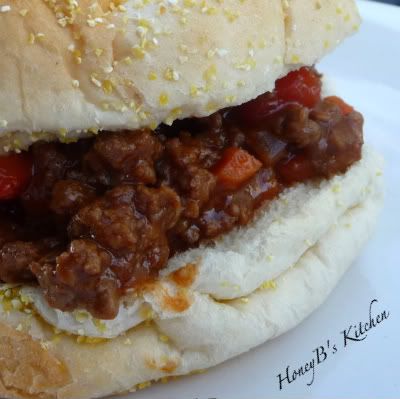 This looks a little naked, don't you think?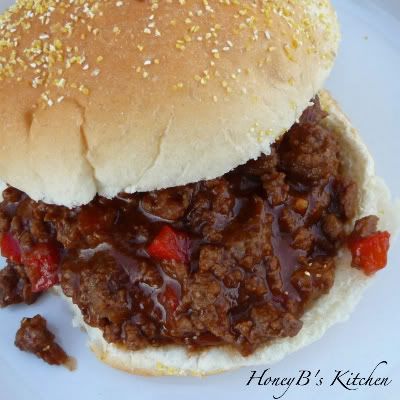 Even under dressed, it looks pretty yummy. Colorful and saucy with a bit of a tang.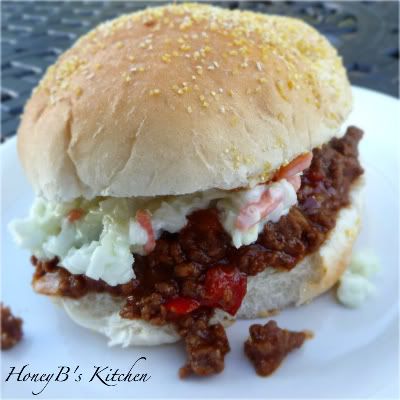 This one is ready for a party though. All decked out with coleslaw. Grumpy style. Makes me want to say "I'll have what he's having."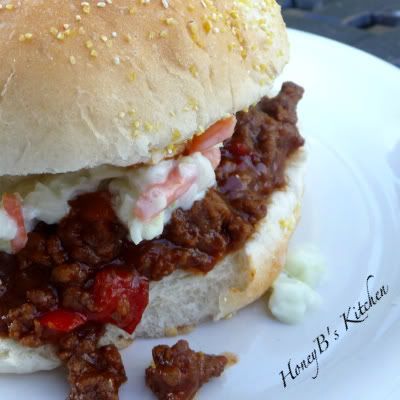 The original recipe for these delicious joes are over at
Mindika Moments
. I have found myself going to Mindi's blog and drooling often. She definitely has meals that are Grumpy's style!
Decked out Sloppy Joes
1-½ lb. ground venison (you can use any ground meat such as turkey, chicken or beef)
1 t. salt
½ t. pepper
½ C. carrots, diced
½ C. celery, diced
1 large red pepper, diced
1 small onion, diced
2 cloves garlic, minced
1 (8oz.) can tomato sauce
⅓ C. ketchup
1-½ T. Dijon mustard
2 tbsp. Worcestershire sauce
⅓ C. brown sugar
2 tbsp. balsamic vinegar
In a large skillet heat sprayed with cooking spray, saute carrots, celery, red pepper, garlic, onion and venison. Cook until venison is done and the veggies are tender. Season with salt & pepper as they cook.
Add the tomato sauce, ketchup, mustard, Worcestershire sauce, brown sugar and vinegar. Stir to combine. Bring to a boil, reduce heat and allow to simmer for about 5 minutes or until all the flavors come together.
Serve with hamburger buns and top with coleslaw.