You don't see candy on this blog very often. That is because I am not really that good at candy making - certainly not because I don't love it! However, my intense love of all things with fleur de sel and caramel could no longer be ignored. I had to make these caramels!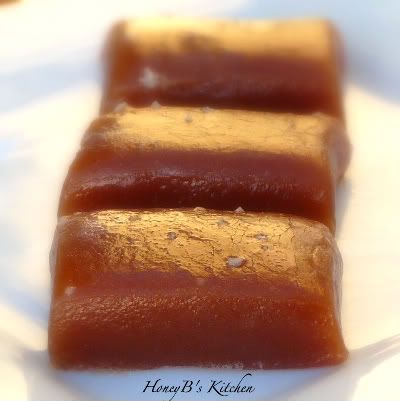 Oh yeah. So good. So evil and so time consuming!
I was nervous because the one other time I tried to caramelize sugar I really messed up good. I took my time though and didn't rush things. I swear it took me forever to wrap these little babies. I also swore we were going to be allowed only one a day after having to do the tedious wrap job. Then I ate one. Suddenly, all that wrapping didn't seem to matter anymore and at least 10 more mysteriously disappeared. Needless to say, the next day I took the majority of them work and I got rid of them as quickly as possible (not without downing about 3-4 more before I pawned them off). That evening before we went to bed I went to the cupboard to see if Grumpy decided to eat them. Yeah, I was going to be evil and eat what I left him. But. He beat me too it!!! LOL They were gone! Oh well. I think I better leave these alone for awhile. I could gain every pound I lost back eating these babies!
Fleur de Sel Caramels
1 cup heavy cream
5 tablespoons unsalted butter, cut into pieces
1 teaspoon fleur de sel
1 ½ cups sugar
¼ cup light corn syrup
¼ cup water
Line bottom and sides of an 8-inch square baking pan with parchment paper, then lightly oil parchment.
Bring cream, butter, and fleur de sel to a boil in a small saucepan, then remove from heat and set aside.
Boil sugar, corn syrup, and water in a 3- to 4-quart heavy saucepan, stirring until sugar is dissolved. Boil, without stirring but gently swirling pan, until mixture is a light golden caramel.
Carefully stir in cream mixture (mixture will bubble up) and simmer, stirring frequently, until caramel registers 248°F on thermometer, 10 to 15 minutes. Pour into baking pan, sprinkle with a few more fleur de sel crystals if desired and cool 2 hours. Cut into 1-inch pieces, then wrap each piece in a 4-inch square of wax paper, twisting 2 ends to close.