This time of year seems to have a lot of birthdays. One very important one that I missed and felt oh so terrible for because its one I never want to miss....and that is my very special nephew Matthew. Remember this photo? You just gotta love that crinkle in his nose and look in his eye while he's chowing down on that cupcake!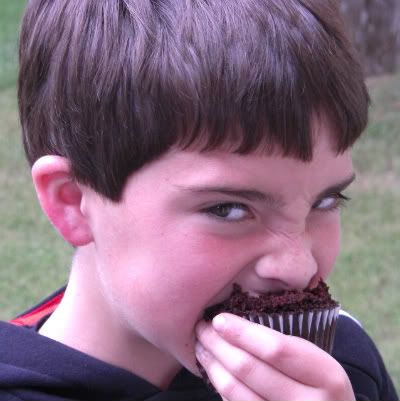 We have had so much going on here lately that I totally let his birthday slip by me. I actually remembered on the day but not early enough to have sent him a birthday gift. Oh what a bad Auntie I was this year. I have to make it up to him. I did call him (on his own cell phone) as soon as it hit me that it was his birthday. I think the insurance agent who had me on the phone thought I was having a heart attack when I heard him say today was 10/10. Matt was having dinner at Steak n Shake-seems to be one of his favorite places to eat! I am so sorry that I am late sending his gift, but I'm hoping he will forgive me and be a happy camper when he does receive it. Oh the guilt we feel when someone special to us is forgotten.
So, with my confession out of the way, let me tell you how hard it has been to remember anyone's birthday lately. Maybe its the fact that I myself turned another year older not so long ago? In any case, my brother, my cousin, my father-in-law, my nephew. My dad's birthday is coming up at the end of this month, along with my aunt's, and.that is just my family that all had birthdays within a few weeks of each other! My goodness, am I ever so glad I do not have to remember my children at this time of year also because I am already broke as it is!
We also have had several birthday celebrations at work - one of which I happened to make this pretty little cupcake for. Have you ever noticed that when you see something pretty that you have a hard time not taking several photos? Then trying to decide which ones to use can be a hardship too. 🙂
I also have surprise for you!
I was visited. Visited by the Fairy Hobmother.
Not too long ago I happened to be reading a friends blog, Megan's of
Megan's Cookin
. She had made this awesome Caprese Quinoa Salad and she had been visited by the Fairy Hobmother who gave her a gift. When I left a comment on Megan's blog I wasn't really thinking about getting a visit or receiving a gift. As most of you know, I rarely participate in giveaways and happen chance. I never expected a visit from Ian and totally forgot all about it. Until the other day.
I received an email from Ian reminding me that I had left a comment on that particular post of Megan's. Ian is from Appliances Online who is currently promoting the Bosch Logixx range of appliances. He granted me a $40 Amazon gift certificate which I happily accepted. Maybe the Fairy Hobmother will visit you next and who knows what surprise he may have in store for you? Thank you Ian for visiting and thank you for the gift...it obviously came at a great time of year since I just turned a big ole 29. Ok, ok. so maybe I was wishing he had waved his magic wand and made me younger...but I guess I am still 48. However I am now happily looking for something to apply that Amazon gift certificate towards!
Why don't you join me in all the birthday celebrations over the last month and enjoy one of these cupcakes? Don't you want to just sink your teeth into that wonderful frosting and cake like Matt did?
Chocolate Cupcakes with Almond Cream Cheese Frosting
the cupcake recipe is my Nanny's Mayonnaise cupcakes that have become my signature cupcake! I just mixed it up with flavor and added almond instead of vanilla extract this time.
Printable Recipe
Ingredients:
3 cups flour
6 heaping tablespoons Hershey's Cocoa Powder
3 teaspoons baking soda
¾ teaspoon salt
1-½ cups sugar
1-½ cup mayonnaise
1 teaspoon almond extract
1 -½ cups water
For the frosting:
4 oz ⅓ less fat cream cheese, softened
3 tablespoons unsalted butter, softened
3-½ to 4 cups confectioners sugar (use what you need to make frosting the consistency you want it to be)
1 teaspoon almond extract
Directions:
Position a rack in the middle of the oven and preheat to 350°F. Line two standard 12-cup muffin tins with paper cupcake liners.
In a large bowl, sift together the flour, sugar, cocoa powder, baking soda, and salt. Set aside.
In another bowl, combine ½ cup water, mayonnaise,and vanilla . On medium speed with an electric mixer beat in half of the flour mixture just until combined. Alternate between the remaining flour mixture and 1 cup water until all ingredients are mixed.
Divide batter among cupcake liners filling about ⅔ full. Bake 18-22 minutes or until toothpick comes out clean when inserted in center of cupcake. Cool completely on wire rack.
While cupcakes are cooling you can make the frosting. With electric mixer on medium speed, mix butter, almond extract, and cream cheese until creamy and incorporated. Gradually add sugar, 1 cup at a time and blend on low speed. Frost cooled cupcakes. Refrigerate any leftovers.