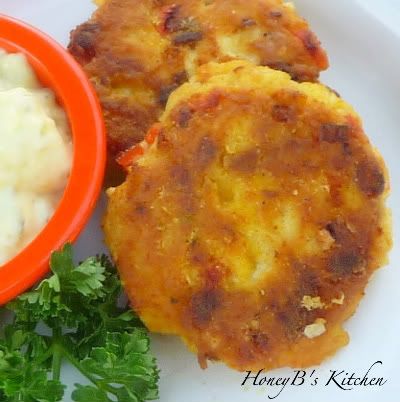 This week for
I Heart Cooking Clubs
the theme is Mystery Dinner – Potluck. I had been wanting to make crab cakes for a while so I found Mark Bittman's recipe and went with it. This was my first time making crab cakes and it won't be my last! I decided to take a chance and made them curried instead of plain. I really liked the curry in the coating
and
Grumpy enjoyed them! He had (and still has) no idea there was curry involved. he he. I love it!
Crab Cakes, Curried or Plain
Mark Bittman's How to Cook Everything
1 pound fresh lump crabmeat, picked over for cartilage
1 egg
1/4 cup chopped red bell pepper (optional)
1/2 cup chopped scallion (optional)
1/4 cup mayonnaise
1 tablespoon Dijon mustard
Salt and freshly ground black pepper
2 tablespoons bread crumbs, preferably fresh, or cracker crumbs, or as needed
About 1 cup all-purpose flour for dredging
Curry powder (optional)
2 tablespoons peanut, extra virgin olive, or vegetable oil
2 tablespoons butter or more oil
Lemon wedges and/or Tartar Sauce
Mix together the crabmeat, egg, bell pepper, scallion, mayonnaise, mustard, and some salt and pepper. Add enough bread crumbs to bind the mixture just enough to form into cakes; start with 2 tablespoons and use more if you need it.
Refrigerate the mixture until you're ready to cook (it will be easier to shape if you refrigerate it for 30 minutes or more, but it's ready to go when you finish mixing).
Season the flour with salt and pepper and add some curry powder if you like. Heat a large skillet, preferably cast-iron, over medium-high heat for 2 or 3 minutes. Add the oil and butter and heat until the butter foam subsides. Shape the crabmeat mixture into 1- inch-thick cakes, dredge each in the flour, and cook, adjusting the heat as necessary and turning once (very gently), until golden brown on both sides, about 5 minutes per side. Serve with lemon wedges and/or tartar sauce.